Running in the mountains in september is so beautiful! Wonderful colors and the temperature is perfect – not to hot but the sun is there to enjoy. The high season is over and we can run free on the hiking tracks. There are a lot of beautiful tracks with panorama view and the smaller tracks in the valleys are also lovely with nice views. You will enjoy during running and afterward a few days running up and down hill, you will feel the nice feeling of sore muscles. The yoga will be adapted to your wishes but the idea is to have focus on restorative yoga.
Included
Training:
4 sessions – Yoga/Meditation/Mindfulness with Margareta
3 (4) sessions – Hiking on the alp with Margareta and Fanny
4 sessions – Ashtanga/Hatha/Yin Yoga with Fanny
Last day, you can choose between a shorter hike or yoga sessionYoga
Walserhuus Hotel, Sertig Valley, Davos.
2019, Monday, July 15, 14:00 until Friday, July 19, at 12:00
Meals:
Breakfast (Tuesday to Friday)
Dinner (Monday to Thursday)
Accommodation:
Single or Double Room, Hotel Walserhuus (Monday-Friday)
Some rooms with the jacuzzi on the terrace, available for all of us from outside.
Not included
Yoga mat – bring your own
The Travel to and from the retreat
From Zürich you can go by train for about 1 hour and 50 minutes to Davos Platz. From there you take the bus to the Hotel for about 20 minutes, no need for pre reservation. It is a really beautiful trip. If you travel by car it is about 2 hours and 15 minutes from the airport to the hotel.

Price
950 CHF
8 200 SEK

Sign up
OBS! Sign up before May 1st, 2019! Note, maximum of ten participants
Send an email to margareta.hultman@psim.se – tell me about your background in yoga so we can properly adjust to your level.
Welcome to this Yoga Hiking Retreat!
Margareta and Jennie
Yoga Instructors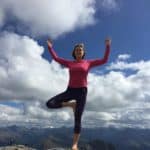 Margareta Hultman
as I am a sports psychology counselor and Hatha yoga instructor, I will have some small lectures in yogic positive psychology. And have the classes in restorative Hatha yoga. I will also be your hiking guide.
Jennie Runesson
is a teacher and high level orienteering runner. Jennie loves running and nature and is a safe guide to the alps. She leads the group with the faster pace and the longer distances and can challenge if you want!
More information
please send me an email.

Best regards,